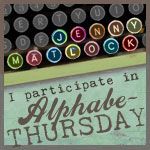 Remember the meals you used to have at home when you were growing up? Do you ever feel like you just can't make them like mom or dad used to make? Are there favorites you had that are unique or everyday comfort type foods that now a days when you eat them they just aren't quite the same? That's what I find now a days, now that I'm older and now that food or the ingredients seem to be more and more processed and less natural.... or something. I also get the line from my mom, when I ask her for the recipe for something I recall loving when I was growing up, "That's poor people food! I only made it cause we couldn't afford more." WTF??? I liked it, I don't care why we ate it! LOL!
Ok, I'm going off topic here. So today the letter is W and that's going to bring us Wirscht Salad. WTF is that you say?? Or do you know? I grew up with it as a kid cause my mom made it all the time. Now last week was V and I gave you all sorts of ideas for veggie salads with vinegar well Wirscht Salad my friends is similar to that, it's chopped up meat with vinegar, water and onions. Sounds gross or weird right? Yeah well check this out:
Looks like chopped up bologna right? LMAO! Well that's cause that's what it is. Now first of all this is what I mean by things just not being the same as when we are young because back then when mom made this she used ring bologna. She's German and they made this there in Germany all the time with their fresh sausages and such that were similar to America's ring bologna. Well now she uses just regular sandwich bologna... WTF!?!?! Talk about poor people's food! OK, so bologna isn't cheap really but come on.... there are better meat options mom! I have to say it's rather nasty because it's very greasy/fatty and the vinegar draws all that out and... BLECH! As a kid when it was ring bologna it was much better, there wasn't all that fat and trust me... it was a tasty summer meal. Yeah so this Wirscht Salad just isn't one of those meals from my childhood that I want to relive since it's not the same. I told mom the other day that this is no Wirscht Salad, it's Wirscht comes to Worst. She just laughs cause she thinks I'm crazy... I don't argue, she's probably right:-)
So no recipes for you to try this week my friends unless you'd like to give Wirscht Salad a try that is. I'd understand if you would like to pass on this one but should you be courageous I recommend finding a nice ring bologna, the more natural you can get the better... if there is such a thing, I really don't even know anymore.