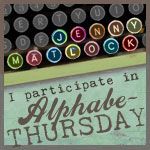 Hello all! Today we have the letter V for ya. I'm going to do a variety of things this time starting with a Vietnamese soup called
Pho
. I always hear people talk about it and when it comes to new foods I'm always leery cause I'm rather picky on what I will eat and how but I'm trying to broaden my horizons & Pho is one of those things I've been wanting to try. So a co-worker mentioned she visits a local restaurant called
Thanh Truc ~ Green Bamboo
for their Pho, one of the best. I ventured out to give it a try. Boy was it a ton of food! You start out with condiments and then they bring the soup for you to add those to:
What you get is a ton of bean sprouts, lime wedge, fresh Thai basil, and sliced peppers. The soup itself is a beef broth with tons of noodles, cilantro, thinly sliced round steak (which can be other types of meat such as seafood) and then other spices and such that they add for their own unique flavoring.
There is also Hoisen and Sriracha sauces. It was definitely good, a lot but good! You can click on the name of the soup and restaurant back up top there, in bold, to learn more details on both. The restaurant was very nice and inviting and the service was excellent so if you live in Minnesota or are ever visiting then I recommend that you check it out.
Ok, my next thing is made with vinegar. Lots and lots if you like that sort of thing, not so much if you don't:-) You choose. It's simply water, vinegar, onion, garlic, seasonings of your choice and then veggies. I use cucumber, tomatoes, green beans, cabbage, or cauliflower. Sometimes I'll mix one or 2 but most of time time I make them separately. It's my favorite summer salad to always have it the fridge so that I can have some veggies quick with a meal or on their own. I do like to mix the cukes and maters together cause I will put that on a nice turkey burger to jazz it up a little:-) So here is that combo:
Here's all you do, it's so easy... especially if you have a food processor that slices. I like to use English cucumbers if I can because the skin on those is thinner and then I don't have to peel them if I don't want to. If I have to use regular cucumbers then I do peel those. For maters I like to use Roma tomatoes because I think the skin is thinner on those, they hold up nicer when slicing them and they just taste better to me usually. I run them through the processor to get them nice and sliced then put them in a bowl and add water until they are covered. Then I add vinegar until, usually I just pour it in so I'm not sure how much but you'll probably want to start with 1/2-1 cup to start cause depending on how much water you have in there you may need more, less or just have enough. Now also beware that as it sits in the fridge it marinates so the vinegar will get a little stronger so you can start light and add more later if necessary. Now after that I take onion (as much as you want) and add that. Now when my mom makes it she adds onion slices or chunks but I don't like to bite into them so I run them through the processor to chop then into bitty pieces. I do the same thing with some garlic, again as much as you want. After all that I'll season with pepper and when I make just a cuke mix then I will sometimes add dill. I also use garlic &/or onion powder occasionally. You could add other stuff too like basil, rosemary, thyme so on and so on... I just choose not to go that route cause I just am not so fond of those I'm finding:-)
Now I'll end with another victorious fruit selection that I made when I visited the local Aisan market for those great dragon fruit that I got last week. Here ya go:
Now it may not look so pretty but looks aren't everything people! That there is an Asian pear, or as the sticker on it said... and Apple Pear. It's pretty much spot on with that name cause it's shaped like an apple and the skin, well it's not quite the same color but it's exactly like a pear's skin in how tender and fragile it is. Now you can eat them when they are still harder like an apple or a harder pear or you can wait until they begin to get a little more tender, which I prefer... it's how I like my pears also. It gets juicer when it's soft but there is a crisper feel to it like an apple and the taste of it is a mix between a sweet apple and a pear. The texture of the skin is equal to the pear and the flesh is not quite as grainy feeling as a pear but there's a hint of that, more of the apple feel though. It's white on the inside, I got carried away after the first bite and forgot to snap a picture to show that... it was just so juicy and delicious! Click on the name in bold up above, or the pic, and check out the deets on this great fruit, I urge you... you won't be sorry!