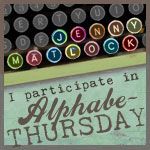 This week brings us to U my friends and I was having a hard time coming up with recipes for U that didn't just have U words in them like 'ultimate', 'unbelievable', 'utopian', 'unique', 'unlimited', etc. There just aren't that many foods that start with U. So with that being said all I have this time, recipe wise, is a juice made with the delicious Ugli fruit:-)
What is ugli fruit you ask? Ok, maybe you know and aren't asking or maybe you just don't care but I'm going to share anyway. It's a citrus fruit. It's very juicy, very! They can be found in Jamaica, which I so love to visit so I have been able to try them straight from the tree:-) If you click on the name back there you'll be taken to the wiki page that gives a little info but it's short and sweet. Basically they look like a irregular, unripe, ugly grapefruit or large orange and they are juicier than either with a flavor more on the sweet and sometimes tangy rather than that of a grapefruit, which is more bitter. The skin around the pulp is a little tougher to chew than that of an orange so I normally just try to get at all the juice and pulp & leave that membranous (I know that's not a word but I'm using it) covering behind:-)
Here are a few pictures I took of one that I enjoyed:
Now since they are so juice I figured hey.... let's add it to some juice. I just mixed it with some cucumber, beets, carrots, and yep it was yummy in that also.
Beets always give juices that great color:-) It's a combo I make often with lemon rather than the ugli fruit but with ugli fruit it's just as good. Ok, maybe not just... I miss that lemon flavor that is more acidic and cuts the beet flavor a little more than the ugli fruit does on its own I guess... LOL!
Ok, I decided to also share my unique find. I often watch the cooking channel and once in a while they use dragon fruit in things. It always looks so yummy that I want to try it but living in the Midwest we don't really find it in our local grocery stores. Well low and behold, the Asian markets do stock it when it's in season and I was able to find some!! I love it! It's a unique looking fruit, grows on cactus like plant, and sort of has a kiwi/pear flavor.