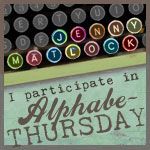 Today is Thursday and we are on letter T. Did I plan it this way so I could milk the T as much as possible? Not knowingly but it's sorta cool it ended up that way:-) Don't worry though, there is actually some terrifically, tasty food involved so it really is a tasty Thursday. What makes it even better is that I didn't have to cook it this time! OK, in the past I have sometimes had some help but I found the recipes and everything. This time my boyfriend came up with the menu for me and cooked it! Yeah, he ROCKS!
For a while I've been saying I wanted to try Talapia. Now I don't like fish mind you, I don't like any seafood or fish. I've been told that Talapia is a mild fish, meaning it's not so fishy tasting and it's a nice white meat... which appeals to me cause white meat chicken is my favorite meat:-) So the boyfriend, who's name just happens to begin with a T as a matter of fact, said he would make Twice Triple Spiced Tilapia, Two Tone Tarragon Rice, Sauteed Brussel Sprouts and Triangle Faux Foccacia. Yeah, he used to cook for a living:-)
Here's the goodness:



Don't let the picture fool ya, I don't take such great ones and this one was taken with my iPhone:-) That rice, delicious!! The brussel sprouts, they were fresh rather than frozen so they of course were great! The bread, a yummy winner. The fish..... not to take away from the cook cause it was good but I'm not a fish person so I could take it or leave it. There was a fishy taste and that, along with the fact that I know it's fish and my mind says "You don't like fish, it's fishy!" wasn't really helping the cause:-) Once I added some lemon juice and began eating it along with the rice, sprouts and bread rather than on it's own it was less detectable (that fishy taste that is).



So, I tried new stuff and it was fish and it wasn't so bad really:-) After that I had a bowl of tripled fruit... Ok, I just called it that for the love of T:




It's just a bowl of cut up cantaloupe, strawberries and a few grapes. YUM!
The boyfriend came up with the recipes for the meal so if you'd like to give them a go he said I could share:-)
Twice Triple Spiced Tilapia
3 Tilapia fillets
1tsp Granulated Garlic
1tsp Salt
1 tsp Pepper
Lemon juice from 1 lemon
Squeeze juice of lemon on the fillets, coat both sides with the spice mix and grill on high heat until done.
Two Tone Tarragon Rice
Equal parts white and wild rice, 1/2 cup each
1 Tbsp butter
1 cup water
Salt & Pepper to taste
1 tsp of dried Tarragon
1 tsp of honey
Prepare rice together as directed. Add spices, mix thoroughly before covering rice. Let stand, uncovered. Mix in butter and honey and serve.
Triangle Faux Foccacia
Roll of Pillsbury Crescent Rolls
Olive Oil
Various Spices (to taste)
Roll out the dough, brush on olive oil (to cover the surface), spread garlic and Italian seasoning, granulated garlic and grated Parmesan. All spices added to your tastes. Bake as directed on roll, until brown.
There you go, give it a try... especially if you like fish;-)
The boyfriend blogs also and takes part in Alphabe-Thursday, you can check him out at

From My Wicked Ways to Turning a Phrase

.