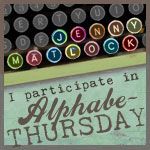 Howdy, tonight I'm feeling real full from my R feast:-) It's been so nice here in Minnesota lately, a little cloudy this week but still warm, so we decided to grill tonight. Now the menu may be a little boring today but it was quite yummy I swear (even though the pictures may not look so great).
Ok, so today it was a rib eye steak, marinated and grilled. So yummalicious! The boyfriend actually put the marinade together and then did the prep and grilling cause I totally have no luck with being a grill master! Here's what he whipped up for the marinade, or maybe I should say blended up:
Tablespoon of roasted garlic
Teaspoon of ginger (powder)
1/4 cup soy sauce
1/4 cup water
Tablespoon of honey
Tablespoon of olive oil
Pinch of salt, pepper and onion powder
Mix that all up and then soak those rib eyes in it for the day. Yep, that was a tasty concoction for sure!
The pieces of meat were very large so to compensate for that I roasted up some veggies and there were a couple veggies grilled. Lots of veggies:-) On the grill was some baby carrots, just seasoned with some salt and pepper. There was also mushrooms for the steak, various seasonings added to those. Roasted veggies were Roasted Edamame and Roasted Broccoli. So very easy and great.
You can click on the names above there for those recipes. There was a lot of seasonings used in the edamame and only a couple in the broccoli but really you could use any sort of seasoning that you may like for either of them. I haven't really had edamame much and I bought a bag a while ago so I figured now was a good time to use it:-) It sort of reminds me of lentils in it's texture and taste really but I like it... not that I didn't like lentils, they were good also:-)
Ok, here is a picture of the end results:
That's my plate. I had to take less than 1/2 of the rib eye cause it was too big but I did pile up on the veggies. The picture, yeah just doesn't do it justice. Roasted veggies aren't really so pretty.... well mine haven't been anyways:-) Now here is a picture of the boyfriend's plate, who had the full sized steak:
Hugemongous right?? Yeah, I know I spelled that wrong but it's appropriate for the size of that thing!
Ok, folks that's all I have for R today. I hope it looks or sounds tasty enough to get you to want to do some grilling and roasting yourselves:-)