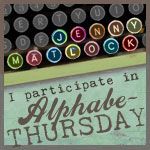 Man, we are moving through the alphabet in no time flat here this round my friends. Today it's all about the letter Q! The letter Q is quite special cause it's like an O with a tail:-) LOL, it's so much more than that... it's quirky not just a special O! Ok, moving on....
Today my friends I have for you Hash brown Quiche, Veggie Quinoa and Quick Vanilla Cinnamon Honey Pears. I was busy, it was yummy but I did learn that frozen spinach reminds me of what I thought spinach tasted like as a kid (BLECH!) and the fresh baby leaf spinach is much better, even when cooked! So on with the show:-)
I've had quiche more often lately cause the boyfriend likes to make it, and makes it well, but I decided that I'd try one on my own this time. I'm trying to be healthy and all but I have a ton of frozen hash browns that my mom brought so I figured that would be a good crust option for one and low and behold I found a recipe for Hash Brown Quiche!
It called for spinach and I was going to use fresh spinach that I sauteed but I found that there was a bag of frozen spinach in my freezer and that prevented me from having to make a trip to the grocery store since it was the only ingredient I didn't already have so I decided to use it. Yeah.... next time only fresh spinach! Not that it was gross cause everyone else loved it, I'm just picky on spinach I guess:-) So here are a couple pics:
The first is that hash brown crust. Basically just hash brown mixed with some melted butter. You cover the bottom of the pie pan, & I pushed it up the sides some, then bake it for 25 minutes at 425. Once it's done you fill it with you quiche mix and bake for another 40 minutes, at 325, and viola... it looks like that 2nd pic! If I could get past the spinach it was good... LOL! I did veer off from the posted recipe a little because I added some garlic pepper, onion powder and seasoned salt to the hash browns so that they would have some flavor. To the quiche mix I added some turkey sausage and some mushrooms, both I had a little of & it needed to be used so it worked out well. Like I said, I will make it again but using fresh spinach for sure.
Next I made what I call Veggie Quinoa. The recipe I used is actually called Quinoa and Spinach however, I was out of spinach and again... wanted to avoid the grocery store so I used carrots and celery instead:-) What I learned here is 1 teaspoon of pepper flakes goes a long way so it was good that I didn't put in more. I could have handled it cause I love me some spicy food but the others would have thought it was too hot, they were ok with the 1 teaspoon:-) I'll definitely need to try this recipe with the spinach in the future, fresh spinach!, cause that would be a whole different taste since it's not as strong a flavor as something like celery but this version was good too:-) Basically the only thing I changed in the recipe was I swapped minced carrot & celery for the spinach. Here's a little snapshot of the final product:
It made quite a bit too! This one I ended up freezing half of it, not sure if quinoa freezes well but I guess we'll find out. It'll make a great side dish for some grilled meat that we might make today since the weather has been so AWESOME!! Grilled meat of some sort, some roasted veggies and the quinoa. yum... I'm hungry now!
Ok, last is the Quick Vanilla Cinnamon Honey Pears. This was a last minute decision because I remembered that I had these 4 pears that were ripe for the eating so I needed to eat them before it was too late. I didn't want to eat 4 so I thought, "Let's see what recipes I can find." I wasn't looking for a Q one persay but I found one.... even though it's just the work 'quick' LOL! I was mighty tasty and apples would be a good one for this also. You can eat them plain or add them to ice cream, yogurt or a pie even. I have some of those Pillsbury croissants, you know... from the dairy section, in the fridge so I'm thinking add a little dollop to a section of the dough, roll it up & bake... mini filled croissant:-) We'll have to give that a try. In the meantime I ate some plain and added some to a vanilla yogurt, here's some pics:
Looks good huh?? They were pretty tasty and easy. You basically just add the cinnamon, vanilla and honey to taste so it's however you want it. I haven't really cooked fruit a lot so I was amazed with the amount of juice that came from cooking the pears. It made sense once I thought about it but I'm amazed easily:-) Quite yummy, I would make these again for sure.
Ok, there ya have it folks. Thems be my eating pleasures this week. As always, you can click on the bolded recipe names above for any that you want to check out and give a try for yourself. I encourage you to try them all but the pears... yeah those were pretty good so try those for sure:-) Until next time... I'll be thinking of what's on the menu for R:-)