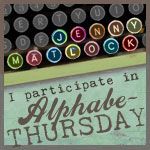 So today the letter is P and it made me think of Mr. Popper's Penguins. Have you seen it? It wasn't too bad actually. I bring it up simply because Mr. Poppers assistant's name is Pippy and she talks in this tongue twister like way where just about every word begins with P. I was pretty interesting to see what she would come up with each time, you should check it out.
Anyways, that's not what I came to blog about today cause my theme is recipes! So I made a few easy ones this week, let's get this party started!
First on the list is Petite Pizza:-)
There are 2 of them there and they were tasty! These are easy peesy, can be catered towards the individual and fun for kids and adults alike. I used some low fat wheat tortillas as the crust. Yes, that makes these some mighty thin crust pizzas but you can roll them when you eat them if you'd like.. I don't mind the thin crust. On that I spread some tomato sauce. You can use any kind, make your own mix or buy a jar of pizza sauce. Then simply top it with your favorite toppings. For these I used chopped jalapeno, mushrooms, turkey pepperoni (on one), turkey sausage (on the other) and a low fat Italian cheese blend. Delish!
Next I made a couple juices. Pineapple, Yellow Plum, strawberry, mango and lemon made this love pink drinky drink:
I kept 1/2 as that and then to the other 1/2 I added cucumber, carrots, celery, and beet so that I had a dessert drink and then this mixed one:
Ok, it's juice and not really P related but there were some P ingredients so there:-)
Last but not least is the Protein Pancake I've had on my list to make! So good, healthy, and filling. Here's what you need:
1/2 Cup of oats
1/2 Cup cottage cheese
1/4 Cup egg whites or 1 egg
2 Tbsp hemp/flax seed
1 Tsp cinnamon
1 Tsp vanilla extract
1 Tsp almond or coconut extract
Put all those ingredients in a food processor and blend until pancake batter like consistency. Next take a small pan, heated with a little Pam sprayed in just in case. Spoon in the batter and spread it out to the size you want. I had a small pan that was the perfect size to I spread it to fill the pan:
The batter is enough to make 2 good sized pancakes. If you want you can make 1 large one or several smaller ones than pictured above. These pancakes turn out pretty thick but if you make them in a large enough pan with space you can thin it out more or you can make them smaller and thin then out also I suppose. Cook it on 1 side then flip to the other and cook. They cook pretty quickly so mine got a little brown but I did put a little extra cinnamon in so a lot of that brown is from that cause they didn't taste burned:
Now you can top these how ever you'd like but since they are meant to be healthy it would be a shame to slather them in butter and sugary syrup! When a friend made them and let me try she topped them with some pomegranate and blueberries with a dollop of Greek yogurt. That was good. I chose to make a topping with strawberries, a little light vanilla yogurt, and some fresh squeezed orange juice. So good!
I even had extra topping that I put in the freezer for a nice little treat another day:-)
So there ya have it.... P's a plenty, hope you enjoyed.... and hope you try some and enjoy:-)