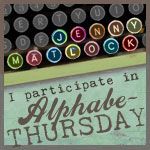 I had a hard time with the letter N for this week. I couldn't find any recipes and finally just went with the Navy Bean Soup recipe in my New Complete Cookbook from Weight Watchers.
I've never had Navy Bean Soup and I have to say that I didn't care for this one but it may be due to the rosemary. I knew I should have put way less of that in there cause I never really care for it in recipes. Anyways here's the recipe, since I don't have a link to it:
2 tsp extra virgin olive oil
2 garlic cloves, minced
1 15 oz can navy beans, rinsed and drained
1/2 cup chopped parsley
2 tbsp fresh lemon juice
4 tsp chopped rosemary leaves
1/2 tsp freshly ground pepper
2 cups low sodium chicken broth
1/2 tsp salt
In a large nonstick saucepan, heat the oil and saute the garlic until fragrant. Stir in the beans, parsley, lemon juice, rosemary and pepper, then add the broth; bring to a boil. Reduce the heat and simmer 10 minutes then cool slightly. With a slotted spoon, transfer about 3 cups of the soup to a blender or food processor; puree, then return to the saucepan. Add the salt and heat to serving temperature.
Here's what I got:
I didn't care for it so I didn't eat it. I decided to freeze it and figured that next week I'll use it for a base to a vegetable soup that I plan to make. That way all that rosemary will be spread out amongst a much bigger batch of soup with a lot more ingredients and maybe tame it down some after cooking in a crock pot all day:-)
So I ended up eating a frozen meal tonight and then thought I'd get creative and make fruit nachos so that I had a N recipe that was a little more successful! I totally made this up and here is what I used, amounts not included cause that's up to you really:
Banana chips
Strawberries
Kiwi
Blackberries
Blueberries
Mango
Lemon juice
Greek yogurt
These were much better than the soup:-) Yogurt was the sour cream & the salsa there is just a little of all the fruit pureed with some lemon juice. The banana chips of course are the base of the nachos & then strawberries, kiwi and blackberries are the toppings with shredded mango (as the cheese... LOL). A little messy to eat but they were good and the chips don't get soggy quite as quickly as regular nacho chips do... LOL! These is a fun little whimsical sort of snack that kids would even love and you can use pretty much anything you want. I was even going to use apple crisps as the chips but I didn't find any at the grocery store today. They may have worked a little better cause they are usually bigger than the banana chips but not quite as thick. It'll be fun to try different variations for sure.
After that I had some extra fruit and yogurt so I blended that all up to make this NUMMY smoothie that I'm going to have for breakfast tomorrow morning:
So all in all tonight's experience ended on a good note and I have the start of a soup that should turn out to be great once I get some more ingredients added in to it:-) I also got to use more of the lovely lemons that I won from Jenny.... in the fruit salsa, the smoothie and the soup base so win/win!