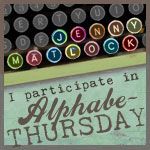 On the menu today is the letter K and for that I have Shredded Korean Beef Tacos, YUM! Now I do love me some Mexican food so what's better than tacos right?? Well these were a nice change to mix up the usual taco a bit. This recipe comes to us from

Debbie Does Dinner Healthy and Low Calorie

check out her blog cause she has all sorts of great recipes that are just tempting you to try them!
This recipe is simple, mainly cause you just put everything in the crock pot and let it cook all day... who doesn't love that?!?! Well, it's a 3-4 pound beef roast, a jalapeno (or more if you want it spicier), some soy sauce, ginger, garlic, sesame oil and brown sugar and then about 8 hours later.... viola!
This produced some very tender and tasty beef for sure! It could be eaten on a sandwich or with potatoes or whatever really. It was even good cold when I took it out of the fridge for some leftovers the next day! No I didn't eat it cold but as I waited for it to warm up I did snatch a cold piece to give it a try & YUM!
Ok, so there is also an slaw that you make along with this and that's actually what you put on your taco shell with the meat. The recipe says to just get a bag of coleslaw and to add soy & sesame seed oil to that but I happened to have 1/2 a head of cabbage in the fridge from the soup I made last week so I put that in the processor and shredded it. So I added in some leftover crispy baked Kale from last week and some broccoli & cauliflower and had this great meal:
The Kale still doesn't look so nice but trust me it's good:-) I had to add some Sriracha to my taco there to spice it up a bit more. I love spicy but my boyfriend isn't quite so fond of it so I stuck to one jalapeno and used the sauce to make mine hotter:-)
I do encourage you to check out Debbie's blog if you're looking for some good cooking ideas. She posts new stuff every week and it always sounds great and seems easy to make.... I have to preuse it more often myself to check out her older stuff!