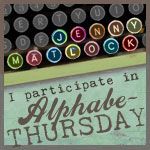 The Mexican Crock pot Chicken was excellent and very simple to make. Since I was having it for lunch I just put it together the night before and let it cook overnight. It smelled amazing! I cooked it on low and you could smell it an hour or 2 in, I had to double check to make sure it was really on low. All I had to do was put some chicken breast in the crock pot and then pour in a can of black beans, chili beans, chilies, a can of diced tomatoes and a package of taco seasoning. The recipe says to add black olives too but I left those out cause I don't care for them. In the morning I shredded up the chicken and let it cook until lunch time. Here's what we got:

Looks almost like a chili. You just scoop some on a taco shell or eat it with tortilla chips, according to the recipe. I put it on a soft shell but unfortunately I accidentally deleted the picture thinking it was downloaded already. I was very yummy, I suggest you try this one for sure! There is plenty of leftovers so I will be trying this as a taco salad mix for another meal.

For dinner I went with the Mexican Meatloaf and Mexican Quinoa. Mexican rice is a popularity but it never seems to have enough flavor for me and so I was going to make a flavorful one until I came across the quinoa recipe. It's a much healthier grain so I figured why not give it a try? Both of these recipes were great but I think the meatloaf could use a little more tomato sauce cause it seemed a little dry to me. My mom, boyfriend and sister thought it was great though. For some reason I couldn't get the cheese on top to melt however so the pictures may not do it justice but here are both dishes:
The recipes for these looked like they would be a little difficult, but they were rather simple. The quinoa was very tasty and the meatloaf was good. I added taco sauce to both for a little extra kick and eating the quinoa with the meatloaf made for a very tasty bite. There was also plenty of leftovers with this meal since the meatloaf recipe made 2. I was going to cut it in half but I figured just go with it.
I was thinking that it would be awesome with some fresh made pico de gallo to add on top of it all! Since I do have leftovers maybe I'll check into giving that a try:-) Until then here is what dinner looked like, that picture I did download: