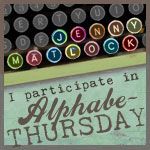 Well my fellow alphabet bloggers... today we are here to celebrate the letter O and orange you glad about that??
Ok, that was lame I know but it's a lead it to the fact that I'm here with some orange recipes today that I tried out... it isn't just a color ya know:-) Now this week I've been juicing, drinking smoothies, and trying to eat only fruit and veggies outside of that. Why you ask? Cause I'm trying to be a healthier me that's why:-)
Ok so moving on.... it was hard to find some O recipes that would fit in with my goals for this week so I went with the easy thing which was oranges. I made several juices and smoothies where oranges were involved and they were quite delightful I must say.
There's a little fun picture collage of a couple that I made. I don't really use recipes, I just toss in the fruit:-) Sometimes a little yogurt or almond milk and such but this time I did only fruits and some greens, in the form of kale. That first one there is some freshly juiced orange juice, strawberries, bananas, a couple blackberries and blueberries and then after that was all blended I added in some kale. The second is strawberries, oranges, & pomegranate. There was another smoothie that was freshly juiced lemon, ginger and then that was blended with a bunch of kale and a banana and some pomegranate. Now the results were not too appealing cause of the amount of kale and the red from the pomegranate.... and I'm wondering if my poor processor is overworked cause the kale wasn't so smoothed in. Anyways, it looked like someone got sick but it tasted great:-)
There was also an orange salad dressing that I actually used as a marinade for some lovely brussel sprouts, cause I'm so loving the fresh ones that my local grocery store cleans, cuts up & packages for me all ready to go:-)
It was nice and easy and gave me another reason to juice some oranges. Then because I was too lazy to come up with other recipes I ate orange food instead:-) LOL, that counts right??? I had spaghetti squash 2 ways and baked sweet potato! Here's another fun collage:
The first picture is the orange salad dressing. The second is the fresh brussel sprouts after marination and before cooking. The 3rd is my dinner of the brussel sprouts, marinated spaghetti squash cubes, and a grilled portabella mushroom. The last picture is the baked sweet potato but I mashed it and added in a little butter that the boyfriend made for it (a mix of brown sugar, cinnamon, nutmeg... and I forget what else). No picture of the spaghetti squash but that was eating with baked eggplant Parmesan.... which made me realize that I may not be an eggplant fan. It's ok in a stew or something but stuffed and baked hasn't been so great so far.
So that's what I have for ya'll today my friends. Oh, there were juices also for which I gave the fruits and veggies a vinegar bath. Yep, I read that helps with the cleaning so you can get all those nasty chemicals off. So I leave you with this some lovely orange carrots and oranges, with friends... in all their bathing glory: