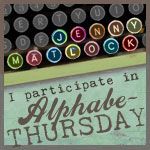 Hello my jolly alphabet loving friends, today is being brought to you by the letter J and let's just get right to it cause this may be a little lengthy with pictures and stuff:-)
So I've decided this week was going to be a healthy, clean eating sort of week. This was in order to cleanse out a snacking habit I've been unable to kick and to get in some use of my juicer that I got for Christmas! It's not anything fancy, just a Black & Decker juicer but it does the job. I didn't want to just drink juice however so I made a few veggie dishes, where I'm improvising on the "J" being in their title so I could fit them in here..... what, I have juice for J so the rest are just freebies;-)
Now juicing, what do I think about it? Well, my first thought is that there is a lot of prep work for not so much output and there is a lot of waste if you don't find some use for the pulp that is left behind. I wanted to find use for it however, since I'm just getting started I tossed it this go round. The actual juice has been tasty and I really like to put a lemon in everything:-)
The first juice I made this week looks like this:
Pretty ain't it? These juices don't really have a name but here is what's in this one:
Multiplied by 2 cause I made a double batch:-) I'd say there was about 48 ounces or so of juice out of that. Celery and carrots are definitely the biggest bang for your buck juice wise! The others didn't offer up quite as much for their quantities. This was a tasty juice, didn't mind drinking it at all!
Here is the next one, not quite as pretty I'm afraid:
Now this one is 3 medium carrots, 1-2 cups of spinach and 1/2 lemon. What you see there is the amount of juice begotten:-) Don't let the cover fool ya either, this one was tasty also! I never thought I'd like carrot juice but it ain't bad!
Last but not least is this cavalcade of goodness:
Ok, wait... don't mind that crock pot quite yet cause I'll get to that later but all those fruits & veggies you see there are the ingredients that came together to render this jug of joy juice.....
Yeah I know it doesn't look like much in comparison to all those ingredients but this one is ok taste wise also and I'll be drinking it for the next 2 days or so... depending on how many glasses I do a day. This is probably 40 ounces or so worth & here's what's in those ingredients up there:
8 large carrots
1 cup strawberries
Ok, again that is multiplied by 2 so I could double the batch and that explains why it looks like so much more than what's in the picture.
I was going to get all fancy and show you what each ingredient looked like after it was juiced and the amount of juice it produced but that would be a ton of pictures and I didn't want to bog this down with all of that so I'll just show you this one to get a feel for it. This is about 8 worth of pulp and the juice it gave out:
The little bits of green you see is the celery that went before:-) All in all the juicing has been interesting. Is it something I'd do often?? Probably not because I don't like all the prep and waste so I think the green smoothies are a little better in that respect. There is prep work for those also but you are drinking the pulp in those and not wasting it. I do have to say that the juices have been a little more on the sweet side. I always seem to feel like I need a little something more in the smoothies besides fruit & veggies... maybe it's lemon, carrots or celery! I seem to enjoy those flavors in the juices:-)
Ok now the bonus is some veggie things I made to eat for dinner cause I just couldn't go without chewing all day.... LOL! These next 2 don't start with J but they are jumbled, jostled and juggled as they are prepared so just go with it... LOL!
The first is

Crispy Baked Kale

. Now kale I've always seen as something restaurants use to decorate or garnish with, never did I think people actually ate it! I eventually learned, in my teen years, that some crazy folks did and now I've become one of them:-)
There it is. It's pretty too isn't it? That bright green and all. It's actually a little darker, the lighting just brightened it up a bit. This is a very easy recipe from Sparkrecipes. You just take a bunch of kale, cut out the spine, rip it into bite size pieces and then drizzle a tblsp of olive oil, squeeze on some lemon juice, add in some garlic (in my case lots!), then some sea salt and red pepper flakes. Mix it all up, bake at 400 for 10-12 minutes, then mix it again and let it bake for another 5 or until it's as crispy as you want it. This was delish! I loved the lemon with the spicy flavor (I did add quite a bit of both cause I do like spicy). I would definitely make this again and next time add in a few other types of greens even!
Sparkrecipes called Stir Fried Carrots, Parsnips, Turnips how perfect!
Them up there would be the main components. They don't look so tasty to me, which is probably why I've never eaten them. But here they are again all cleaned up and ready for the jostling:

Now what I will say here is that the recipe lists all sorts of spices but I believe that the measurements should be teaspoons rather than tablespoons cause I followed what they had listed and it was too much for me. It could be because I don't really care so much for basil, rosemary, thyme and oregano... or at least not in those amounts anyways. I would say that you could add any sort of seasoning you want here, I probably would have been much happier with just the garlic, salt, pepper and maybe a dash of the others if any of it. So here was my dinner:
The kale there no longer looks so pretty but it was tasty. The lemon was left over so I squeezed a little more over everything for some added flavor. The stir fried root veggies... yeah I just couldn't finish those. Too much on those spices.
Waste not want not though right?? Or maybe I should say something more like "There are starving kids in Africa!" That's what my mom always said when I threw away good food. I didn't throw it away though cause it wasn't bad, just over spiced. Instead we turned it into dinner for tonight:
That there my friends is

Cabbage and Parsnip Soup

, and it's what's in the crock pot way back on that juice ingredient picture:-) It may not look pretty, or good even, but it was tasty and I'll be finishing it off the rest of the week.
What's in there you ask? Well the stir fried veggies that didn't taste so swell, with all their seasoned glory, and then we added in 1/2 a head of cabbage, some diced tomatoes, come kidney beans, some potatoes, onion & veggie/chicken broth just to give it a little juice cover. Then it cooked in the crock pot all day long. It was great! I added a little pepper but really the seasoning was good, I just wanted that little kick:-)
I'm a soup and stew lover in the winter, what can I say.... they've shown up a lot in these alpha-blogs... hope you've given some a try cause they've all been GREAT!