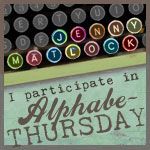 Today my alphabet loving friends we have the letter H. I decided to throw caution to the wind this week and go crazy with 3, count them... 3, recipes! All 3 of them were quite tasty, definite keepers, and they were brought to me by Sparkrecipes:-) I have to say that I love looking through there for new stuff to try. Most of the recipes are easy and low cal of course.... well for the most part, there are some that are a little high for me:-)
So what I have for you all this week is Honey Balsamic Chicken Breast
Click on the link for the full recipe but basically you season some chicken breast, fry them up in a pan and then put them aside while you make the yummy honey balsamic vinegar sauce right in that chicken pan. Then you drizzle it over and dig in!
Now I wanted to add a veggie but something different and when I was trying to look for some H recipe ideas I typed in hash as one of my searches, just to see what would come up. My mom used to make great hash when I was a kid and I've been wanting some. Anyways, I ended up finding a more curious thing called Radish Hash Browns! Here is the before and after:
They look so pretty at the beginning don't they?? Then, sorta like they died. I guess they sorta did... LOL! Don't let that 2nd picture fool ya though, they aren't burnt & they were great. That's fresh from the stove there, they are still steaming:-) This were very simple also. Click on the name back there to get the details but I put a bag of radishes in the food processor and made them look like that first picture. Then I put a 1/2 an onion in and did the same. Sauteed the onion and then added the radish, cooked for about 8-10 minutes and added in the seasoning at the end, mixed & there you see it on the plate:-)
We had to stop at the grocery store today before I was ready to cook, just so I could restock on some pummelos (I adore them, you can click on the name for a link to explain them... don't be thrown off by how it's spelled there... different places seem to spell them differently:-) While we were there I thought, hmmmm what else can I make with dinner. I grabbed a bag of lentils cause I wanted to give those a try someday so I figured I'd get some to stick in the pantry but then I thought, hnmmmm I can check out Sparkrecipes on my iPhone (cause they have an app for there!) so let's see if anything sounds good that I may need more ingredients for! Low and behold I came across Honey Baked Lentils!
I haven't really eaten a lot of lentils in my life. In fact, I've only had them once... that I can really recall. I figured they'd be a good fit here, especially since it involved honey like the chicken:-) For this recipe, just click on the name back there, you could either bake them or cook them on the stove top. I went for the stove option cause that was 40 minutes, whereas the oven option was an hour to an hour and a half. I didn't want to wait that long:-) So you just put all the ingredients in a pot, mix them up, and let them cook until they are soft enough. That's all there is to it:-)
All 3 of these recipes were great! Now what really worked was to mix the lentils with the radish hash browns and a little Frank's Hot Sauce (cause I really do put that shi* on everything:-) That just gave it a little extra.... kick! Then a bite of chicken and all was right with this dinner:-)
There it is, the yummalicious meal that was brought to you by H. Yep, still working through the leftover paper plates from Christmas:-) I like to wash dishes so after things were dished up the plates from above were in the sink waiting to be bathed:-)
I would say that these recipes are all recommended. Even if you think you don't like radishes or lentils. I didn't eat either of them really. The only time I've had radish was when it was sliced real thin in a salad. I once tried to eat a whole one and found it not to my liking but once they were cooked like this they lost the bite they seem to have and they were tender and tasty. The lentils were great took, a nice fill in for a starch in the meal. I know they aren't a starch but they sorta had the consistency of one... if that makes sense. Basically, don't balk until you try it... you may think it's great;-)