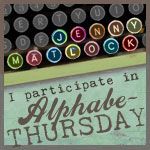 Our beloved Alphabe-Thursday has returned after a little holiday hiatus and we our now on G my friends. My G recipe this week is Garlicky Pork with Basil. I do adore me some garlic!
This recipe comes from Betty Crocker's Low Fat Low Cholesterol Cookbook. It was pretty simple and pretty tasty. I don't usually have a lot of luck when I cook pork but this worked well:-) I'll share the recipe here...
3/4 pound lean pork tenderloin
1 tblsp plus 1 tsp dried basil
1/8 tsp ground red pepper (Cayenne)
4 cloves garlic, crushed
Trim the fat from the tenderloin and then cut it into 8 pieces. It says to use 3/4 of it but I just used the whole thing & cut it into a few extra pieces. You are supposed to then flatten each piece to 1/4 inch thickness. Yeah, that I didn't have luck with so mine is a little on the chunky side:-) You cook the pork in the oil over a medium-high heat for about 3 minutes, turning once, until brown. Then stir in the remaining ingredients. I used olive oil rather than vegetable and of course more garlic:-) I used less basil but only because I read the recipe wrong & only used 1 tsp. I do have to say that was enough for me though on that spice. You mix all that up and then heat until it comes to a boil. Once it does you reduce the heat, cover & simmer for about 5 minutes or until the pork is done.
This came out pretty flavorful and because I was limited on time I just heated up some sweet potato tots and broccoli & cheese to go with it. Here are the pics...
I'm using some left over paper plates from Christmas there... saving on some dish washing time too... LOL! There is a plate as a whole & then an up close pic of the pork. It was quite tasty. This is definitely a keeper recipe, quick and easy and can be paired with many a side dish or even flavored with many a different spice
!