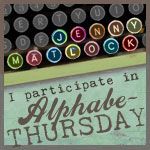 My computer likes to annoy me lately so hopefully it's done being temperamental and it will allow me to post this fun, fantabulous F blog!!
Today my friends F is for Fudge and Fruit Salsa.... YEA! That's peppermint fudge to be exact:-) Now I'm not a big chocolate fan, which may be against all rules of being a woman or something from the looks I get when I say that but it's true! I will eat it, I prefer it when there's caramel involved though. This fudge however has pumpkin in it. Yeah, you heard me.... PUMPKIN! Ok, here goes the recipes!
Peppermint Bark Fudge
courtesy Hungry Girl.com, it's very simple. You can click on the name to see all the details but all you need is a box of Betty Crocker Fudge Brownie mix, 2 cans of Libby Pumpkin, 3 tablespoons of white chocolate chips and a candy cane (or 5 mini candy canes). That's it! You mix the brownie mix and pumpkin and stick it in the oven to bake. While that's baking you crush the candy canes and chop the white chocolate chips. Once the brownies are done you take them out of the oven and sprinkle the crushed cane and chopped chocolate on top. Press it a little into the brownies and as it cools the crushed canes will settle in and the chocolate will melt to also hold the cane on to the brownies. Then you can cover it with foil and put it in the fridge to cool overnight so the peppermint flavor settles in. That's that. I don't think I cooked mine long enough cause the center was a little too soft, the edges weren't too bad. Here's the finished product:
Only 67 calories a piece. Now I must say that this doesn't taste like fudge to me, I totally taste the pumpkin.... but it is good. I think maybe a little less pumpkin might help curb that flavor a little and maybe a little longer baking time than the recipe lists so that middle is more solid. I was also thinking I could use caramel flavored chips that I saw at the grocery store.... love caramel! This may be a good recipe to experiment with in the future:-)
Next is Fruit Salsa. I found this one on SparkRecipes and afterwards found several others there that used different fruits but I went with this one first. Now the recipe includes cinnamon chips that you make also but I left those out and just used cinnamon sugar pita chips with mine cause they were on sale:-) This recipe just calls for a pound of strawberries, 2 kiwi, 2 apples and 1/4 cup of orange juice. Chop all that fruit, put it in a bowl and add in the orange juice and mix. You can eat it right away or put it in the fridge so it can chill, meld flavors and allow the orange juice to draw out the fruit's juices. Here's some pics:
The first is the freshly chopped and mixed product. The 2nd is the next day and me getting ready to give it a try. It was delish! I used gala apples and they sort of overpowered the flavors of everything else. My thought is that this is another one to experiment with in the future! Maybe some pomegranate, pineapple, peaches... the possibilities are endless and it's awesome for anytime of year! I may even make some for Christmas to snack on during the day while everyone waits for the ham dinner to be done:-) Now I would have to say that the chips in the recipe may be a better idea for the future also because they'd be thinner than pita chips, since they are made with flour tortillas. You bake them so the calories are kept down of course so that's a bonus:-)
So here are 2 recipes to play around with if I get in the mad scientist sorta mood, or if you do.... go ahead, give em a try! Heck... maybe I can even mix the 2 somehow and go a little crazy!!