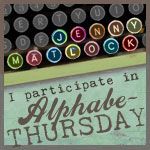 Today is brought to you by the letter C. Now my theme is recipes and I originally said that they'd begin with the letter of the week so this may be considered cheating but on the menu today is Aztec Chicken, Vinegar and Course Salt Chipotle Roasted Potatoes and Spicy Jamaican Cabbage. So the main ingredient in 2 of the 3 recipes begins with a C and in one.... it maybe tastes like the C??? LOL... it's funny how I can eat it and not really know but it was quite the yummy meal:-)
Now the recipes for the chicken and potatoes are a just a couple from

Debi, at Debi Does Dinner Healthy

. You should check her out, there are over 500 recipes and she has pictures that show off their yumminess! The cabbage is something that I've had in Jamaica. I used to go yearly so we had some friends there that sort of became like family and one of them would make us a Jamaican dinner 1 of the evenings while we were there so that was a dish he'd make. So yummy and that recipe will be shared here in this blog, rather than a link, since it's written down. Ok so on with the show....
The chicken, while it didn't look as pretty as Debbi's it was quite great! Do check out the link above for the recipe and her pictures cause it will definitely make you want to give it a whirl!
Above is my pictures of the Aztec Chicken before & after:-) You marinate this one for a couple hours, according to the recipe, but because of time I ended up marinating it overnight. It's just a mixture of olive oil, cumin, paprika, onion, black pepper.... mmmmmm. To save space and because Debbi has it all outlined for ya I won't type out the recipe here, just click on the link to check it out. She also has included a pico de gallo recipe that you can put on top of the chicken for a little extra boost of flavor:-)

Next is the potatoes. Now there isn't actually chipotle in them so I'm assuming they must just taste like chipotle from what you do put in them? I'm not sure if I've ever really had a chipotle so that I would know but my boyfriend says they do sort of have that flavor so I'll take his word for it:-)
Now these babies above are the Vinegar and Course Salt Chipotle Roasted Potatoes and Debi said they smelled great cooking... she wasn't kidding! They smell fabulous, I couldn't wait to eat them! Very simple recipe that uses red wine vinegar, cumin, chili powder, salt and pepper... another recipe that she has outlined all nice and easy like so check out the link above. They are awesome and I think when I make them in the future I may let these little taters marinate overnight to see if I can get that vinegar mix to penetrate them through and through... I love me some vinegar:-)
Last but definitely not least is the Spicy Jamaican Cabbage. Now I'm not sure that's what it's really called but it's what I call it:-) I don't really know the exact measurements of what is used either, it's one of those just winging it type of recipes since the person who made it in Jamaica just throws things in there from memory, doesn't really write recipes down or anything. I do have to say that I love my food processor and it makes shredding a head of cabbage so much easier!! Ok, so here is a picture of the spicy yumminess as it's cooking:
Saute the following in a little olive oil:
2 or more cloves of garlic
Now, I have an issue with biting into chunks of peppers and onions so what I actually did here was throw the peppers, onion & garlic in the food processor to chop it all up to a consistency I could handle. I then put it in a wok, with the olive oil, to saute... it looked like pesto... LOL. Beware of the little scotch bonnet cause they are very hot! They are little but pack a big kick... I forgot to take a pic but here is one from google:
So cute and innocent looking but 1 is all you need for some good spice. If you don't like hot then use 1/4 and then add more if that's not enough. It really all depends on how much cabbage you have. I used the whole thing and thought it was just right:-)

You add in the shredded head of cabbage. My local grocery store had pretty small heads of cabbage so it was about the size of a softball... maybe a little bigger. It was just the right size so I'm not complaining, any bigger & it may not have fit in my wok:-) Like I said above though, the amount of cabbage will probably be an indication of how much or how little of the scotch bonnet you want to include because of their heat. Again, I used the whole thing but I like hot:-)
I probably used about 25 baby carrots, maybe less, I just shredded them in the processor with the cabbage and then added the cabbage & carrots to the wok with the pesto like mix. Now the plantain.... I've not really dealt with one of those in the past but it's like a harder version of a banana. I simply peeled it and shredded that up in the processor too. Nice and easy!! It looked like shredded cheese or something but I put it in the wok, mixed it all together and then added about a cup and half of water to steam it all.
As it's cooking you just want to keep mixing it, you're really cooking it now to soften up that cabbage and the carrots to the consistency that you like. Some like it a little crunchy but I like it a little softer. Towards the end, when it's near being done you can add in a diced up tomato. I don't care for cooked, chunky tomatoes so again... in the food processor it went and then I tossed it in and mixed it up. At that point you just let it cook a little longer until all the flavors meld and you get the texture you want for the cabbage.
So, my picture up above shows the pretty confetti like color of the ingredients but if you aren't freaked by textures and are OK with the chunkiness then yours can have diced ingredients that would stand out a little more in your mix:-) Either way, it's good stuff!
Here is the overall dinner for the evening:
And here it is with the pico on the chicken:

My version of the pico that is... no chunks:-) I love the taste of peppers & onions but I don't want to bite into the chunks. It may not look so pretty but it was an awesome dinner that I will definitely make again and again!
This meal is rated Scentsational! Everything smells awesome as you make it and as it's cooking and while that doesn't start with a C it sounds like it does so it works:-)