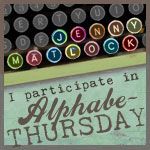 It's that time of the week... recipe time!! Ok, so those of you that read my A blog know that I didn't actually have the recipes ready back then so I had to post it a little later. If you want to check that out then you can click here on Apples and Asparagus... Oh My! Alrighty, that brings us to B then doesn't it? Yep it does and for B I have for you bread crumbs...
Ok, I'm kidding... that's not really the B recipe for this week. I did use some old hamburger buns though that I would have normally thrown away and made the bread crumbs you see there in the 2nd picture. They should come in handy for some meatloaves or something later down the road:-) I just put that bread in the oven at 275 until it was dried out and toasty and then in the food processor it went. Simple, no need to throw away old bread anymore... unless it's moldy of course.
Ok, for reals the recipe is Beef Barley Stew and it is yummy! I figured that when I can I'll just link to the recipe I used and when I can't I'll list it. In this case the recipe came from:
My mom loves to shop at the 2nd hand stores and keeps asking me if I need anything so one day I told her some cookbooks would be nice, low cal like preferably. She brought me a pile of them and amongst them was that one. There are a lot of recipes in there that sound tasty so I look forward to trying more out.
That first picture is what theirs looked like completed and the 2nd is mine. It may look a little gross, mine not theirs, but it's very tasty and very easy to make. I believe mine is a little soupier because the recipe calls for a 16 oz can of whole tomatoes, crushed, but I used a little more than 16 ounces of diced tomatoes, pureed:-) I don't like to eat chunky, warm tomatoes so I have to go that route. It called for 10 ounces of frozen mixed vegetables but I don't really care for mixed vegetables usually. I decided to try to go with it but I bought a bag of corn and a bag of peas and carrots and then I used about 12 ounces, to make up for the extra juice I knew I'd have. I was so tempted to throw in extra barley cause I love it but I was afraid I'd over do it so I didn't this time. It turned out pretty chunky so I probably won't in the future either. Here's the ingredients they list:
1 pound extra lean ground beef
1/2 cup chopped onion (about 1 medium)
2 tsp chopped fresh oregano or 1/2 tsp dried
1 can (16 oz) whole tomatoes, undrained
1 can (8 oz) sliced water chestnuts, undrained
1 package (10 oz) frozen mixed vegetables
And the directions, with a little added in from me... LOL. You preheat the oven to 350. Cook the beef and onion in a skillet over medium heat, stirring occasionally, until beef is brown; drain. I also added chopped garlic in with the beef and onion cause I love me some garlic:-) Then you mix the beef with the remaining ingredients, except for the frozen vegetables, in a 3 quart casserole pan. Now the recipe says to break up the tomatoes but this is where I pureed them before I added them. I also used flavored diced tomatoes, a can of onion garlic and some left over onion green pepper ones (just a little more flavor... which I can never have enough of:-) You cover this and put it in the oven for 30 minutes. Once that time is up you mix in the frozen veggies and then put it back in the oven, covered, for another 30-40 minutes... or until the barley is done. I had to cook it for about an hour before it was done but I used some fancy unhulled, organic barley.... ooo la la:-)
The book says that it makes 6 servings of 1 1/3 cup each and that it's 215 calories per serving. Not too bad and it's hearty. I love this and plan on making a double batch to freeze so that I have some easy meals later down the road. Winter's coming & this is some good winter eating!
I did make another B recipe that I'm not quite as sure about. It consisted of butternut squash, which I've never had let alone dealt with, and

millet

, again.... never had or dealt with. I thought millet was something you fed to parakeets or something but it's not just for the birds anymore. LOL! I laugh because the site I looked up to learn a little about it said the same thing.... and I typed it before I read it I swear. Anyways, you can click on the word millet back there if you are unfamiliar with this wonder grain. The recipe is simply called Butternut Squash and Millet Cakes. You can check out that recipe and calorie info by clicking on the name there. Here are a few pics:
Now call me crazy but when I cut into this cute little, organic, butternut squash it reminded me of cantaloupe. It even looked like cantaloupe inside and once it was all cut up, it's just shaped a little different. Unfortunately it didn't taste quite like cantaloupe....
Here we have the millet, looks a little bit like quinoa. In the first picture I'm rinsing it, the 2nd it's toasting & the last it's mixed with the squash and the rest of the ingredients. Now the recipe says that the 'mush' tastes good but I thought it was a little bitter or something. Once the 'mush' cools though you heat up the frying pan, add some olive oil, and put in a dollop of the 'mush' and brown it on both sides as you make it into a pancake. Mine didn't want to stick together but I think it's because the squash wasn't quite ripe.... I didn't really know, it was my first time an all. I'll read up on the butternut squash for the future. Here's what I ended up with.
Not too pretty but it wasn't too bad once it was cooked like a pancake. I didn't add the cilantro that the recipe calls for but I did try it with some lemon juice on it and that made it a little better. This one may be an acquired taste and I'm not sure I'll make it again. I basically wanted to find a recipe for millet and went with this one since it had the butternut squash in it for B:-) I will give each of those ingredients another try but in separate recipes in the future. I do have the batch of 'mush' left however so I'll make those up another day to give them another go around... or I wonder if my bird will like it?? He's a cockatoo so millet is a little small for him but he loves mash potatoes so maybe he'll think that's what it is... until he tastes it;-)
So this concludes my B blog my friends. Beef Barley Stew is a YUM and Butternut Squash Millet Cakes are a HO-HUM... don't be afraid to give them a try though... they have a nice Indian food like smell as they cook due to all the spices you add and I myself am picky so you just may like them:-)