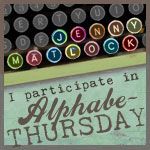 I contemplated skipping this next round of Alphabe-Thursday because I thought "What fun could it be to do it a 3rd time... what would I write about?". Then I realized I was just being silly and trying to allow lazy to overtake me! I LOVE Alphabe-Thursday and you all could too by participating in it... if you don't already that is;-) So here I am again and if you are interested in checking out the fun just click on the link up above there and you'll be brought to Jenny's page where you will see her introduction and then the list of all the awesome bloggers that link up and participate weekly with their take on the letter of the week.
Ok, so we are on week 1 where the letter of course is A and I've decided that this time around I'm going to make Alphabe-Thursday be a multipurpose blog each week. Not only will it be my entry for this great blogging group but I will include a new recipe that I've tried. I've been trying to eat healthier and broaden my horizons a little by trying new recipes. My problem is that I'm not big on cooking so I can find tons of recipes that sound great but I don't always get around to trying them out. So I've decided that I should be able to cook at least once a week right?? Each week I will try at least 1 recipe and it will start with the letter for the upcoming week's blog so that I can share it. I figure this way I finally try some of the recipes I've collected, I get to take pictures while I go along (which I love to do:-), I get an idea each week for my Alphabet-Thursday blog, and I get to share how it all went with everyone plus have a nice compilation of recipes that I can access again should I want to make any particular dish more often in the future.
What fun right??? Well, I just decided this all last night so I'm not really prepared for this week's letter, A. I was thinking I could make an Apple Quinoa Salad
and I will do that but obviously the sharing of it will happen on a later blog cause I haven't made it yet. For the future the plan will be to make the dish between now and next Thursday so that I can post my results on the blog. Next week for letter B I should be all prepared and ready to share whatever dish I decided to go with! Sometimes I may know ahead of time what the dish will be and sometimes I won't but what I do know is it should be great fun right?? Good food (I hope), ideas to blog about each week, reasons to take and share pictures, trying new recipes (finally), and an over all good time... what more fun can one person have? Well, you could read about it all and try a recipe or 2 yourself... that may be more fun;-)
Ok, so there it is.... my plan for this round of Alphabe-Thursday. Now it'll be recipes with a spin each week... not just a recipe blog but more of me sharing my experience as an inexperienced, picky cook. I add and leave things out of recipes all the time because I don't like certain things or think some things don't sound like they belong so this will all be interesting. Sometimes I just use a recipe as a guide and add my own ingredients, that may be similar... may not. It's all fun and games until someone ends up with a food baby I say;-) Tune in each week and check it out... the ABC's of Recipes!
Due to my flighty mind and all, like I said above, no recipe pics for this week's blog but have no fear... I will make it this week and blog about it! I will blog about it all on its own, before the next Alphabe-Thursday for sure, and if you miss it then I will also share a link to it through the B blog. That way if you want to check it out it's all nice and easy to find:-) I promise to be more diligent and prepared in the weeks to come and to be honest in how my experience went with everything.... which could be quite hilarious;-)
11/7/11 update.... Apples and Asparagus.... Oh My is now posted for my A recipes so you can click on the name ^ right there and read it if you are interested:-)