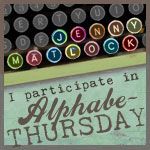 It's another week of Alphabe-Thursday and we are on the letter D! Those of you that have read in the past know that my theme this go round is recipes so this week brings us this lovely concoction:
That there is called Dilly Buttered Carrots and.... um, well.... the recipe say Rotini however those of you skilled in pasta know that isn't rotini up in there. LOL! Those my friends are shells cause that's what I had in the pantry and I really made this last week, which you also may recall was Thanksgiving soooooo... I was in a rush to get it done:-) Why I'm not sure since the letter was postponed last week, I could have taken a break. Really, I didn't think about it and just kept telling myself I had to get my D recipe in for the week! Well now I'm a little ahead then and won't have to feel rushed or anything in the oncoming weeks I guess.... SCORE!
Ok, so this recipe came to be from a little book called Lotsa Pasta!, it's a Pillsbury Classic Cookbook. This is one of those little books you can pick up from the magazine rack at the checkout lanes in the grocery stores. It's one that my mom picked up for me from one of her many excursions to the 2nd hand stores when I said I was in the market for some cheap, low cal/low fat cookbooks.
This was a very simple recipe, I'll give you their version first:
3 oz. (1 cup) uncooked rainbow or plain rotini (spiral pasta)
2 cups fresh baby carrots, quartered lengthwise
1 teaspoon chopped fresh dill or 1/4 teaspoon dried dill weed
In a large saucepan, cook rotini as directed on package, adding carrots during last 2 to 3 minutes of cooking time. Cook until rotini is tender and carrots are crisp-tender.
Drain rotini and carrots; return to saucepan. Add butter, dill, salt and pepper; toss gently to coat.
Dietary Exchanges: 1 starch, 1 vegetable, 1/2 fat, or 1 carb, 1 vegetable & 1/2 fat
That's all there is too it! Now I substituted in whole wheat shells for the pasta and I cut the carrots a little differently. I added a little more dill, pepper & salt also cause for whatever reason the seasoning in most recipes is never enough for me:-) Turned out pretty tasty & due to the pasta I used a little different on the nutritional info there but in a good way so I'm not worried about that. I love dill but never know what to do with it. I used dried dill weed cause I have a big container of it that I got at a wholesale type store. So glad I found a use. There are probably plenty more but in the past I've just used it for a cucumber salad that I make in the summer time. Usually summer cause it's a cold, vinegar based salad and I'm not in the mood for it as much in the winter.
Remember the old Looney Tunes cartoons? They are some of my favorites! Anyways, this recipe made me think of the ones with Daffy Duck and Bugs Bunny cause I'm daffy for dill but cooked carrots sometimes bug me... LOL! Get it??? They do though, for whatever reason I'm not a big carrot fan. I eat them raw sometimes and do ok, especially with a dip or something. Cooked is ok with a roast, cause they soak up all that meat fat... LOL! I'm good with them in stews and soups... as long as they aren't to crispy, they should be a little more tender then. I don't really care to eat them cooked plain but I will when they are in a mixed veggie combo or something. It's a wonder that I got as big as I did with how picky I can be sometimes, that's for sure!! Although this is veggies we're talking about and I'm sure there aren't too many who get big off those!