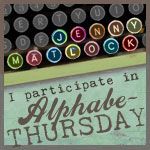 Y is for Yesterday! The day I finally went and had some Indian food... chicken vindaloo to be exact:-)


I get together with a few ladies that I went to high school with for dinner every now and then and for our outing this time I suggested Indian food. Turns out one of the ladies goes for Indian food quite often and knew just where to go! So we ended up at:
It's run by Indian people so the food is authentic... not that I'd know any different... LOL. I ordered chicken vindaloo of course cause I had a hankering for it ever since V! I also got an order of garlic Naan bread. It was all fabulous and I'm definitely going back (again and again!!).
The service was excellent, they were so nice and attentive. The only problem we had wasn't even a problem but we forgot to tell them to split the check into 4 separate tabs so it took them 4 people to figure that all out. English is their 2nd language after all, well... it's not their first one at least:-) They were excellent though. Great service, great food, great company what more can a gal ask for on a night out?? I even had a to go box so I'll see if it tastes as good as leftover:-)
Now here's my dilemma... or maybe that's not the right word. I hear so many times that Indian food it spicy, too hot even so when they asked how spicy I wanted it (mild, medium or spicy) I thought for a second and then threw caution to the wind and said spicy:-) Now I love spicy food but I was getting nervous that it would be too much from what I've heard. When it came though I found that spicy was mild to me! Maybe next time I have to say extra spicy:-)
Mmmmmm, next time has to be soon.....