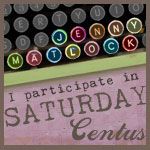 Complaining won't make it go away
it only makes you annoying.
Most keep the toxic things at bay
along with those that are cloying.
Our relationship you have impeached
so when you call don't you be nervous
but the number you have reached
is no longer in service.
My sanity I must protect
and it was fragile to begin with
I was considered sane last I checked
but maybe that was just all a myth.
Distance can make the heart grow fonder
or so someone long ago once said
but that's a phrase I'll have to ponder
in case that person was just mislead.
©MDO