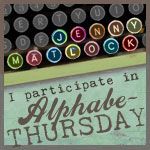 I've decided to use today's blog as a learning experience. You know when you have those thoughts where you wonder what something is or what it means and you make a mental note to yourself that you should look into that sometime? It's not only me that has those moments and then never finds the time is it? Well I have them all the time but rarely do I actually remember to follow through. Well today I can do so with my blog for V cause today it's for Vindaloo:-)


I know that it's an Indian food and probably spicy but I've always wondered what was in it and if I may like it so I can give it a try. I don't think I've even eaten Indian food. So I go the the easiest place to check it out, Wikipedia! I then also checked a few other places cause Wikipedia isn't always the most accurate source:-)
It is made in India but Vindaloo is actually a modified Portuguese dish called Carne de Vinha d' Alhos, which means meat of wine garlic. Mumbai then altered the dish by using vinegar instead of wine and red kashmir chillies then the Goa region of India took the idea and they added curry, plenty of spices and they used palm vinegar. The name Vindaloo came from the Portuguese word for vinegar, Vin, and garlic, Alho... both ingredients that I adore!
The dish usually has chicken, lamb or pork with potatoes. It is said that the potatoes were used to make it more hearty because lamb is expensive in India. Sounds like what my mom used to do when she made stew, more potatoes than meat... LOL! Good think I love potatoes. I'm thinking this vindaloo stuff is sounding pretty tasty! I need to find me a restaurant to give it a whirl now... or try a recipe and make it myself.
Looks yummy right?? Click on the picture for a recipe... maybe someday I'll get the nerve to try to make it, I think I should have it in a restaurant first though so I know what it 'should' taste like! LOL!!
So, have you had Vindaloo? Did you like it? What other Indian food do you enjoy?