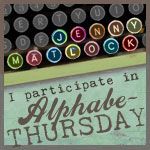 U is for U.S. Airways... an airline I don't recall ever hearing about until I booked a flight to Texas a couple months ago to visit my brother. Things didn't go as planned for Texas so I ended up exchanging those tickets for a flight to Vegas instead, from which I just returned on Sept 7th. The trip was great but the flight there not so good. We left for Vegas on Sept 1 at 8:50 p.m. and had a layover in Phoenix. We were supposed to get into Vegas at Midnight but ended up not arriving until 4 a.m. due to the fact that we were stuck sitting on the plane at the Phoenix airport for 2 hours and then had to get off to wait another hour before boarding a different plane and finally heading to our destination. It sucked and didn't give us any sort of compensation for it, just a glass of water if you wanted it after and hour and a half of being stuck on their plane. You'd think they'd fork up some pretzels, peanuts, or something! Geez!!
The flight back was at the butt crack of dawn, 6 a.m., and it went smoother. We were able to upgrade to first class on the flight from Vegas to Phoenix but if U.S. Airway was a nicer airline they would have given us that for free rather than make us pay for it since we had the craptasitic trip to Vegas! We had to also pay for any checked luggage, although not on the 1 first class upgrade... when you got money to fly that way you get your luggage checked for free.
Now I don't fly a lot and I know a lot has changed since gas prices have gone up & all but come on.... after having us sit there all that time and some people missing connecting flights couldn't they at least let us check luggage for free or something??? Cheap skates!
I will avoid U.S. Airways in the future should I be traveling anywhere that requires me to fly.... unless I figure out how to fly on my own although it may be hard to carry my luggage on my back as I fly... even if I do pay myself that extra luggage check fee!