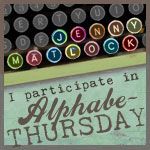 A contender for a college degree that is:-) I went back to college for a little while a few years ago. I didn't get a degree but I did rack up some debt! That's a whole other blog, someday.... if I'm bored. The college I was in at the end was one where you create your own degree. Now I had no clue what I wanted a degree in, I just thought I needed one to advance in my job. I started out in management but then I did this create your own thing and I never did name it cause I just couldn't come up with the right explanation. Well, as I was thinking about what my X word could be and I was looking through all the awesome X words out there... it's like porn for the word lover's brain let me tell ya... LOL! Sorry, got wrapped up in the moment there. So as I was looking I came across the work Xenophile and thought to myself that it was the perfect word, where had it been all my life??
A Xenophile is a person that is attracted to that which is foreign, especially people, cultures and manners. That totally sums up what I was doing towards the end of my short college career. If I finished I could have had a degree in Xenophilia! It sounds kind of dirty doesn't it? All those things ending in 'philia' always sound dirty... LOL!
I do totally have a love for different cultures, I love to observe people's mannerisms, I love an accent (who doesn't) and I want to visit all places at least once. Too bad I just don't have the drive to make something of it all. Instead I just take the learning as I can get it but it all interests me. Not enough to study it anymore I guess though. School just got to be too irritating cause I felt like they moved too slow for me.... like it was grade school. So I only learned a little there but I owe a whole lotta moola for that little bit of education! The funny thing is that I can be a xenophile without a degree. It's an interest that I have to have to qualify, I don't really need a degree that says so. Sure I learn stuff to get that degree but I can learn stuff in life, for free... usually, and who's a better than life??