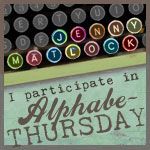 R is for Retro, as is Boys II Men... remember them?? Well should my health hold up and I not have to go to bed after work I'll be heading out to their concert tonight:-) I didn't even see them in concert back in their hay day so I'm excited to finally get a chance to see them now. Why do people think hay day's were great days? I know if I were hitting it big I certainly wouldn't want days of hay, wait... unless by hay they mean money or something cause you know, that kind of hay would definitely be ok:-).
Anyways, today's concert is brought to my by the fabulous Minnesota Zoo! Another place I really haven't spent a whole lot of time at lately so it's too bad I have to spend today at work cause I could go early and check out the zoo while I'm there. I love it when you can actually see the animals hanging out, doing their thing. It's a good zoo but a little pricey so I normally go to the Como Zoo where I can get in for free, walk less, and usually see more cause I don't have to look as hard for it. LOL, all about being lazy I guess. Oh wait, that should be retro to.... out with being lazy and in with burning calories!! I forget after being sick for so long that it was the last thing on my mind... any form of exercise that is!
Ok, so Boys II Men tonight to bring on the retro!
Then it's Mn State Fair time, as of the 25th, which always brings back the retro memories (of which I'd have some of Boys II Men from if I hadn't missed them there, for free, last year!). Then it's Vegas baby in Sept & I've been there twice so it's always a little retro when I go back cause I can actually get around like it's home away from home:-) Here's to hoping my health is retro too so I have fun at all!!