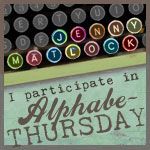 Today L is for Life Lessons! We all encounter them everyday. Some we are impervious to and really should take heed of while others are just simple daily messages that could better your life if learned. Some we gladly accept and some not so willingly but why is it we can't just follow our intuition in the first place so some lessons don't even have to be taught? I mean there are lessons that we could go without knowing, I'm pretty sure my life would be full and happy without having learned some that I have. Sure they shape who I am but let's face it, there's a lot of padding that I could stand to lose and I'm pretty sure some of it has been packed on from some of those lessons.
This is not meant to be a pity blog by any means so I won't get into specifics in regards to any one life lesson. I will just say that I've received a few F's in my time on these lessons and it's been more than once on the same lesson even. I'm not too proud to admit it. I'm especially not proud that when others have been in the midst of similar lessons I was, at one time, freely dishing advice for them like an amateur counselor or a tutor of sorts and thinking that the answer is so easy, wondering why they couldn't see it. Over the years I have learned that you never really know what you would do during any lesson until you are being taught that lesson yourself. I guess you could say that is one of the life lessons I actually learned!
Now I try not to give too much advice and if I do I don't judge anyone for not taking it. Besides, who says I'm any kind of teacher anyway? Especially with as many F's under my belt as I have! Most people just want someone to listen as they vent. Maybe someone to agree with them a little and understand where they are coming from. Someone that can let them vent and not try to be a tutor or counselor
unless they are really fishing for some guidance or a little push. I know it doesn't hurt to still offer a little of the 'here's what I'd try to do', as long as I follow up with saying that I'm not sure I could do it myself. It's not wrong to admit that and it let's them see that they aren't as weak as they may be feeling cause others may not handle it very well either.
Life lessons, no matter how you stack them there is always that tough one that throws the neat pile off balance and brings everything tumbling down. All we can really do is keep trying to restack them until we get it right. The hard part is knowing just the right way to do that without having things come tumbling down again. Often we know the way to solve the problems and complete the lesson but we just have a hard time getting there. Sort of like those tough math problems where a calculator helps you solve them but you aren't able to show the work on how you came up with the solution. I continue to struggle with getting my stack to balance. I try hard not to be negative or complain about it but this current lesson has been a long and challenging one so I've faltered, more so lately. All I know for sure is that this is a lesson that I will see through until the end and once it is complete it will be a lesson learned, one that I will not be experiencing again... and that I can definitely say for sure!