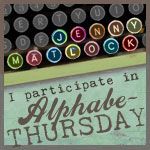 M is for Mental Health
I feel mine being depleted.
Insanity can be quite stealth
and the transition is almost completed.
Sanity slips away in tears and fears
sometimes even when you shower.
Insanity invades your ears and gears
taking root like a weed, not a pretty flower.
I need to get away from it all
a mental health vacation of sorts.
I know it won't be long before I fall
and then I'll visit those padded resorts.
The men will come to take me away
in their pretty, white safety van.
I only hope my insurance will pay
cause I'm staying as long as I can.
It'll be quite fun to bounce off the walls
while wrapped up in my white jacket.
Now if only the room was full of balls
so I can jump in them, no need for a racket.
My mental health is on a teeter totter
with the insanity outweighing the sane.
I have a man in a white coat for my spotter
and he's prepared for when it takes over my brain.
©MDO