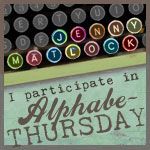 Howdy ya'll. I was thinking long and hard what to blog about for J and hadn't come up with anything until earlier this afternoon when I purchased tickets to see Jason Mraz in concert! Yep, you guessed it... J is for Jason Mraz:-)

Now I love words and people who can use them in a clever, witty way. This man is one of those people that definitely do that! You can click on the picture above there to be brought to his website to check if out if you aren't familiar with him, or even if you are:-) He's a cutie isn't he? You'll be brought to the video section of his site so you can click on a video or 2 for a sampling or you can choose from the other sections of his site to learn all about him.
I'll be heading to his concert on July 3rd, WOOT! It'll be fun to see him in person. He's quite the charitable guy too check out Wikipedia to see what they have on him. Just click on that link I providing right above and it will give you a little more detail on what a good dude he seems to be on top of all the talent. It's always nice to see talented people who don't let all the fame go to their heads and they don't keep it all in their pocket or spend it all on the lavish life.
Well, that's about all I have to say on that... short one this time around... gives you time to check out the sites and give some of the tunes a listen;-)