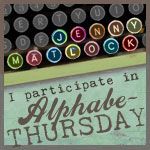 I is for Iamatology. Who knows what that means?? I'll admit that when I saw it I immediately thought of
That's right... Snoop Dogg! He's a tall OG alright;-) I definitely see him saying it often, loud and proud! He's an original gangster and he is tall alright, no one can doubt that. It fits right?? He is a tall OG!
Ok, the word really is the branch of therapeutics that deals with remedies. Not as fun as using it my way right?? I mean sure, they probably do good things and all but to hear Snoop Dogg tell it he's got the remedy for what ales you... so maybe he really is a limb from that branch too?? He's long and skinny like a branch anyway:-) Hey and instead of board meeting they'd be hanging with the homies, drinking gin and juice!
The things that make me go hmmmmmmmmmmm....