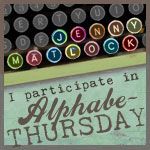 F is for Fritos. Do you ever wonder how they got their name? Well I was sitting in a waiting room with some people one summer afternoon and I think I discovered the source. I kept thinking I smelled Fritos so I look around and low and behold, the lady next to me had some free toes and they definitely were the source of the smell! Wanna see em???
Awe come on, you didn't think I'd show you that gross picture did you? LOL, those there are the real Fritos... that I may never eat again cause of the grimy free toes I saw (or smelled) that were stuffed into a ratty pair of flip flops.
Flip flops!!
Now there is a great F word. I love me some flip flops so that I too can have free toes... that definitely do not smell, or look, anything like Fritos:-) I have more flip flops than any other type of shoe and love, love, love them! If I could wear them year round I definitely would but living in Minnesota really doesn't allow for that unless you want frozen free toes... yeah, not even frozen Fritos would be good so I vote NO!