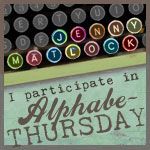 E is for Eggplant. That's right my friends. Those vegan's that don't eat eggs because they come from chickens now have the opportunity to eat those that come from a plant. If you want to eat them any other way than fried then you must act fast before they bloom otherwise you'll just have to make due and chop them up or something so that you have something that may resemble scrambled. You can send a bouquet to your mom for Mother's Day, heck even you dad would like one for Father's Day. Teachers, friends, grandparents... well just about everyone would love them. Because they bloom so quickly I can't really locate a good picture of a budding eggplant but here is what a blooming one looks like:
What's that you say? That's not an eggplant?? What do you mean? It looks like one to me. I mean, come on... there's eggs on a plant. Am I right? Ok, so maybe that's what I used to think an eggplant was. Alright, alright... it's still what I picture at the mere mention of the word:-) Can you blame me? I mean it makes sense doesn't it? I almost rather eat them from a plant then coming out of a chicken cause that does sound a little nasty.
When my bubble was so rudely busted and I was forced to believe that my idea of an eggplant was incorrect. I had to ask myself... "Self, why is this called an eggplant?"
Now it may be shaped a little like an egg... I guess... if it were a Silly Putty egg. It's not the color of an egg, the inside doesn't look like an egg and it definitely doesn't taste like an egg! It is a lovely shade of purple however and that makes me want to like it cause it is my favorite color:-)
I figure that somewhere along the line of eggplants there must be one that looks more like an egg than this more popular version. So I did some hunting and I found the white eggplant and the Thai eggplant
Now back when the dream wrecker busted my bubble if they had showed me one of these and told me it was the real eggplant it would have made a little more sense. I mean, the white eggplant still looks a little more silly than the normal egg and the Thai eggplant is a little rounder but the color is closer so I can get there. However, my question then would have been... "Do these come outta chickens too?"