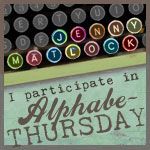 D is for Discombobulated! Oh how I love that word. It really explains me. There is a cacophony of sounds inside my head on a daily basis, which is why I changed the name of my blog site here to 'The Voices Within Unleashed.' I figured if I gave them an outlet they'd allow me a little peace throughout our day. Some days are better than others I must say but for the most part I wouldn't be me without them all so just call me Discombobulated Mel:-)
What really bites is when the cacophony of the outside world clashes with my inner world. It's taken years of experience to get the voices to work with me and for me to work with them so when the outside interferes it doesn't always make for a pretty sound... or scene. Yeah, the voices within are a little over dramatic at times and like to act things out. It can be anywhere from comical to horror, unlikes any you've ever seen.
This is about the word today though, it just rolls off the tongue and sounds like what it means... say it with me now.... dis com bob u lated! In simple terms it's a state of confusion, in my terms it's a state of being on the brink of insanity. On good days I add 'and loving it' but there are some bad days where I feel like I may just step off that edge and topple over into the realm of psychotic wonder. I do often wonder what it's like there and wish I could just visit it to see but then what if I liked it and didn't want to come back??? Yeah, for now I just keep myself balanced on that brink and hope that the daily living doesn't have a global warming like effect that erodes away my ledge so that I topple over before I'm ready.
In the meantime I figure I will just give myself daily hugs cause it gives me a sense of what the snug, white, buckled jacket may feel like in the future when I finally get the honor of wearing one:-)