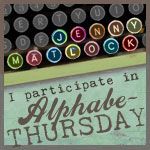 C is for Counterfeit. Yeah, today ladies and gentlemen I'm going to tell you about this phenomenon that I call the counterfeit. When you stand at your kitchen counter... OK wait, let me correct that and say when I stand at my kitchen counter cause I really shouldn't assume (you know what they say
about assuming:-) Already I'm off on a tangent... let me get back on track...
I'm standing at my kitchen counter and in front of me I have all sorts of goodies that I really shouldn't be eating. All the fattening, fun stuff that people like to eat and enjoy. It's staring at me and it's just begging to be consumed. Now in my head I hear... wait, let me correct that also... in my chest I hear an echo coming from what I believe is my belly. In this Scottish voice, reminiscent of the Fat Bastard character on the Austin Powers movie, I hear "Get in my belly!!" Now as I'm about to open packages or dish things up the voices in my head begin. Somewhere in there is my voice but it's surround by many others. Just how many I'm not quite sure anymore. A girl loses track over the years ya know??
So I have my belly talking, my voice within and the others who are now either arguing with me about why I shouldn't eat all the yummy goodness or they are giving me all the reasons I should. The me voice decides to throw a fit and yell and scream and puts on a spectacular show. I say what I need to say to make the voices happy, agreeing loudly with those against eating it and winking to those for it to let them know I'm faking it.
It's all a show cause of course I'm gonna eat it. I mean I bought it, how else did it get in my house? I'm not going to throw it away, that would be a waste of money and there are children starving all over the world. Ask my mom, she'll tell ya! I could donate it to charity I guess but um... yeah... it's just too yummy. If I wasn't gonna eat it and the voices inside that were against it didn't want me too, we would have had the argument in the grocery store isle as I thought about putting it in my cart right??
Whew, long explanation I know. Did I lose you?? Ok so to summarize the counterfeit is the fake fight and fit that I have with myself at the counter before I binge or just eat things that I really shouldn't;-)
Do you experience this phenomenon at all? Maybe we should start a 12 step program... I'll bring the cupcakes... er, um I meant rice cakes:-)