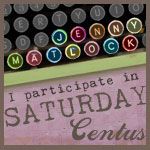 Just 100 words in whatever genre you like (not including the five words of the prompt).
And the prompt this week is:
April showers bring May flowers...
The tears they fall and I wonder why?
It's almost like my skin's just too dry.
They stream and flow like rain from the sky.
I feel maybe something's gone awry.
Outside the snow has come and gone
and all I see is that dirty lawn
but soon all the new growth will spawn
all the while as spring flaunts its brawn.
It's said April showers bring May flowers.
Do the tears I cry have those same powers?
My cheeks do get rosy after some hours
but I think it's the salt in them that scours.
It's a time of renewal, not one of demise.